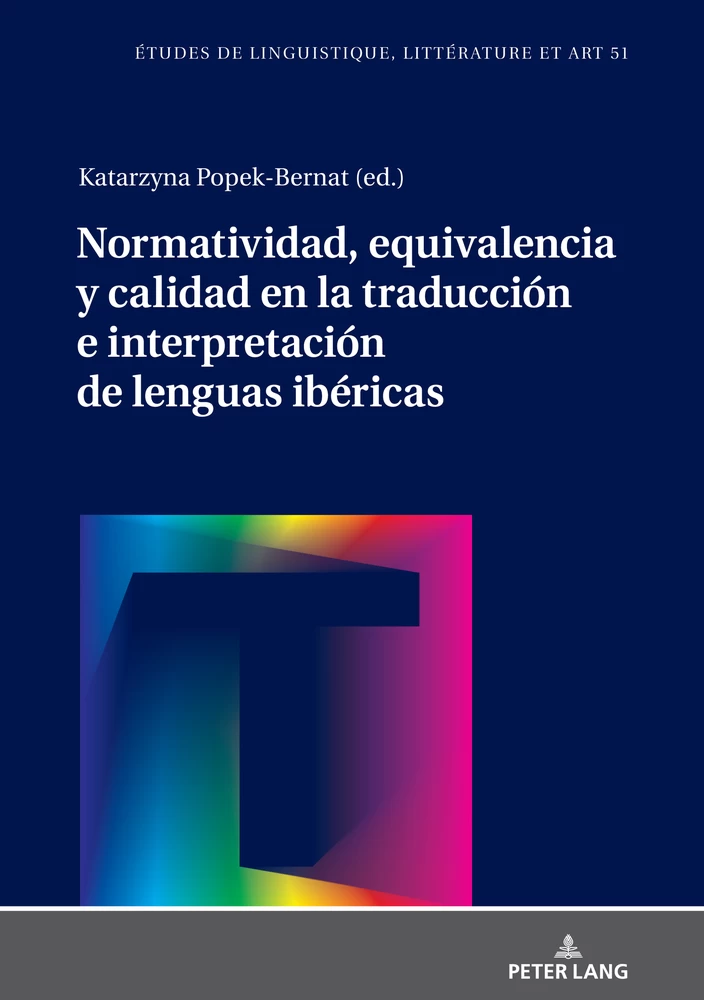 Popek-Bernat, Katarzyna, editor. Normatividad, equivalencia y calidad en la traducción e interpretación de lenguas ibéricas. Peter Lang International Academic Publishing Group, 2022.
El volumen reúne 14 trabajos cuyo objetivo es reflexionar sobre la problemática de la traducción e interpretación de lenguas ibéricas. Se hace especial hincapié en los aspectos normativos, el papel de las interferencias lingüísticas y de los conocimientos extralingüísticos en la traducción e interpretación, además de los métodos y estrategias traslativas utilizadas en la determinación de equivalentes. Los estudios que integran este ejemplar se apoyan en los métodos de investigación tanto cualitativos como cuantitativos. Sus resultados se articulan conforme a tres categorías temáticas: (1) normatividad, (2) equivalencia y (3) calidad. El libro nos ofrece una serie de claves para producir traducciones e interpretaciones de calidad y agilizar el proceso de toma de decisiones translatorias.
The volume brings together 14 works which aim to reflect on the problems of translation and interpretation from and into Iberian languages. It puts emphasis on normative aspects, translational strategies used in the determination of equivalents, the role of linguistic interferences and extralinguistic knowledge in translation and interpretation. The studies included in the monograph are based on both qualitative and quantitative research methods. Their results presented are divided into three thematic categories: (1) normativity, (2) equivalence, (3) quality. The book offers us a series of pointers to produce quality translations and interpretations and to improve the translational decision-making process.